SandShow & Sand Artist for Wedding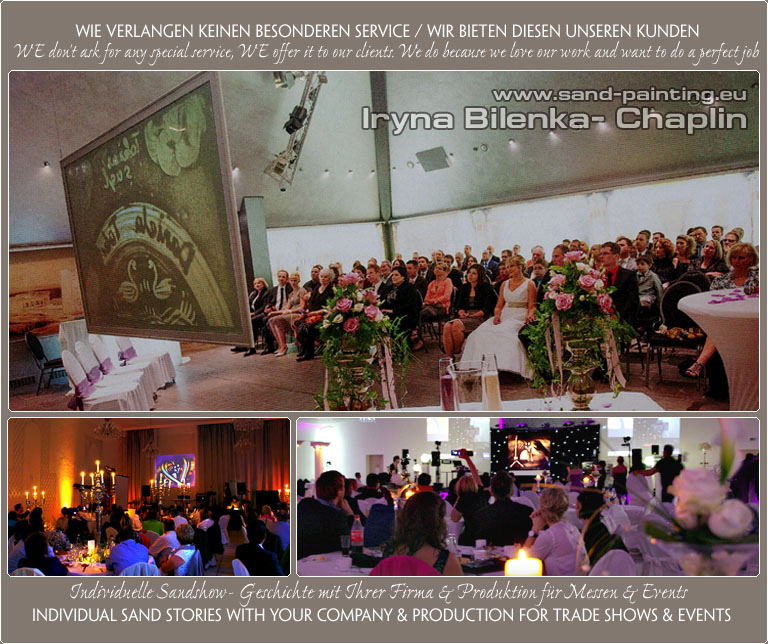 If we get married, we honor the principle of love and the wonder of two hearts finally joined with each other.
The wedding couple is beaming with happiness, the guests enjoy the food and a party atmosphere.
Only one thing may crown the wedding banquet with full success:
a show, which brings the elation of this very special day to its perfection.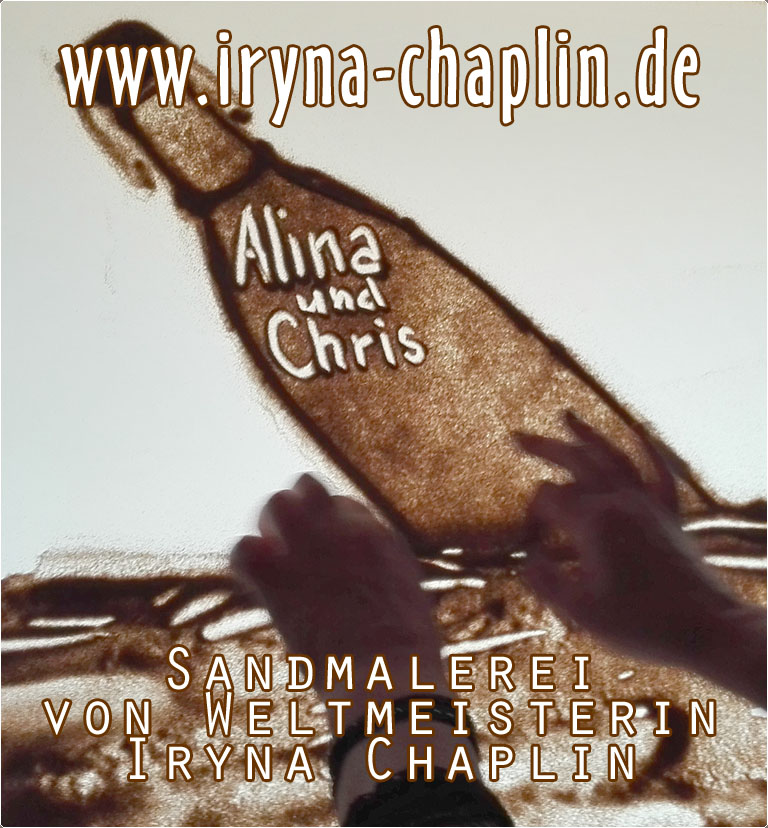 The sand art is perfect for the most beautiful of all emotions. It appeals to the ear, to he eye and last but not least to the tender heart. Dreamlike images come and go accompanied by a touching melody and unite themselves to a captivating story, which tells a of love, romance and youthful enthusiasm. You better look forward to a unforgettable romantic wedding show ! The sands show invites the audience to to lean back and relax, to sink into the pictures before their eyes which are made by the sand and surrender to the deepest emotions within themselves. How nice, when sure hands escorting you to your innermost feelings and lead you back into the hustle and bustle of the wedding banquet. The Event Artist Iryna Alexander Chaplin & have such sensitive hands that all artists ought to own: They create not only the most delicate art for their beloved sand painting show. They also understand the art, to create a moving presentation, which can be warmed the hearts of the audience and immerse them in a cheerful mood into it. Feel free to communicate your special wishes to our professional sand painters show artists Iryna & Alexander. Of course, the names of the bridal pair can be incorporated into the sand painting show. If desired, the names or important dates of the couple can be devised into a very personal and therefore unique sand painting story.


Sand painting show video of sand artist iryna bilenka Chaplin
The sand painting and sand show video clips for your wedding & events
In the video clip "The sand painting and sandshow video clips for your wedding & events"
we use royalty free music / Reworking of K. Jarkov

Other sandshow VIDEOS
of sand painting artist and World Champions
> PLEASE CLICK <
Sand Art & Artist for Wedding.
But Iryna & Alexander Alexander are not only excellent sand paintings artists but also professional performers who understand all the demands of their craft. They are eager to offer a pleasant and stress-free show to their clients. Putting up their Sand Drawing Show offer the two passionate sand-painting artists offer you a complete service that doesn't ask anything of you but your approval and enthusiasm.

Iryna & Alexander bring their equipment themselves and build it up personally. Go ahead!
Make a great surprise to the wedding couple with our beautiful sand painting (sand drawing) show. Take a chance to show your guests this lovely delight. Show your darling how unspeakable great your feelings are. What could be better than giving away moments of happiness or to enjoy a performance with such astonishing impression?
The sand-show artists Iryna Chaplin & Alexander are looking forward to demonstrate it to you and your guests.



For more information please follow the link
PLEASE CLICK BELOW


Sand painting & Sand show as Christmas show



Sand artist & Show for trade (exhibitions)



Sand art as artist & Show for New Year's Eve




SandShow & Artist for Wedding



More videos of Sandshow artist iryna bilenka Chaplin



I guarantee you entertainment pur and much more und I am looking forward to our future cooperation.
With fee I am always flexible. Call me today to book my service and to get answers to all your questions.
Our sand stories are told individually, bring the full joy of a first-class show and still don´t drain your wallet.


Experience the romantic and unique sand drawing art NOW
Enter the dream in her heart FOREVER

Your professional artists and World Champion Team Iryna Chaplin & Alexander
College of Stage and Circus – Kiev, Ukraine
National University of Culture and Art – B.A., Event Marketing & Organization – Kiev, Ukraine
More information about show artists and shows for events:
soap bubbles "bubble show", sand painting "sand show" and comedy "comedy show"
from the world champion
at www.iryna-chaplin.com


Address: Iryna Bilenka,
Unterster Weg 10,
Germany-35582 Wetzlar-Dutenhofen
phone: +49(0) 641 9729650,
mobile: +49(0) 176 23350668, eMail: iryna@iryna-chaplin.de
Your Artist World Champion for Celebrations and Events
Iryna & Alexander

2020 © Iryna Bilenka