Sand art as artist & Show for New Year's Eve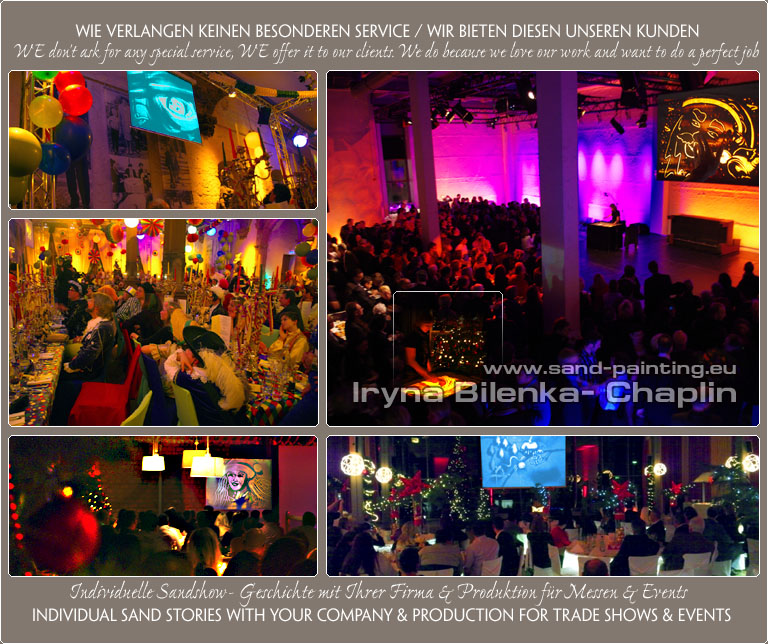 Step into the New Year with joy and flair.
With the help of the innovative sand painting act by the event artists Iryna Chaplin & Alexander you will manage this with ease.
The professional sand artists Iryna and Alexander offer one of the most original show acts worldwide. The new and amazing sand art transports you and your guests into the colorful world of fairy tales from the Arabian Nights. Sit back for a moment and enjoy this unique show. The most beautiful melodies will sweep you off safely with the inimitable flow of images, while our artists conjure up visions in the sand and weave these into a sweet story. Romantic musings, quixotic fancies and the sweetest sensations mingle in our sand to show to a breathtaking experience.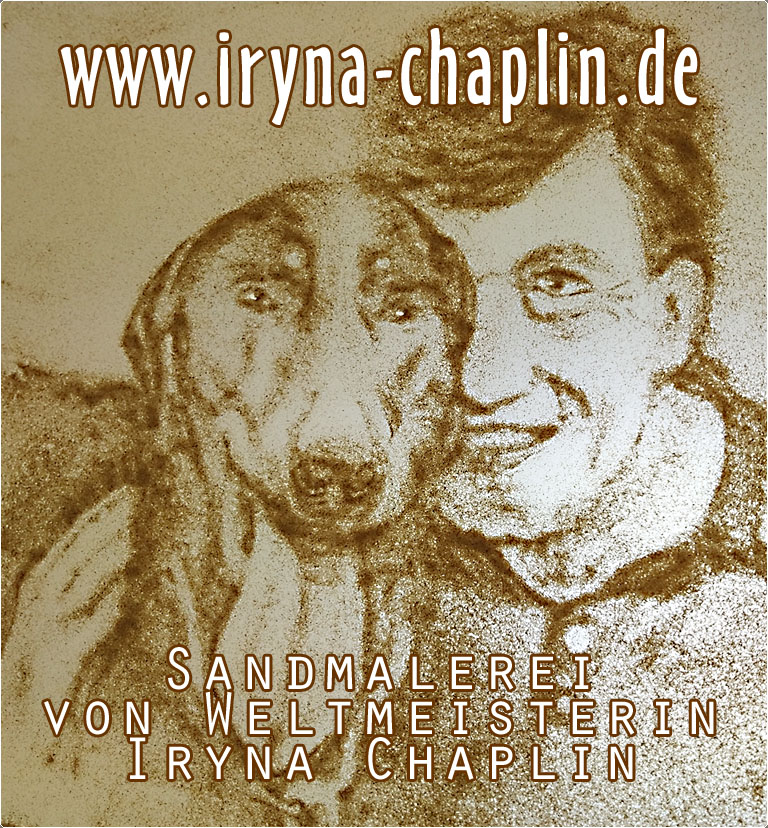 Though the concept of the sand painting is both simple and striking: fine sand is lying on the glass plate of a light box of fine sand in front of the sand painter. He creates his ephemeral works, which are transmitted by a camera on a canvas. This allows the audience to follow and admire every little step of the lovely show act. Spice up your New Year's Eve party with the beautiful sand paintings of Sand Art. Book our Sand Painters for your office parties and amaze your employees. If you wish, your personal New Year wishes and greetings, and even the company logo can to be painted. Our wonderful artists for events Iryna Chaplin & Alexander are looking forward with to bring some extra portion of joy into your New Year's party.


VIDEO Video of sand artist iryna bilenka Chaplin
Some sandshow video "sand painting (sand drawing) & sand show for your soul"
In the video clip "The sand painting and sandshow video clips for your event"
we use royalty free music / Reworking of K. Jarkov

Other sandshow VIDEOS
of sand painting artist and World Champions
> PLEASE CLICK <
Sand art show, sand painting, sand art & artists show for New Year's Eve parties.
Because Iryna & Alexander are such experienced event artists and committed performers, they understand the demands of their craft and the needs of their clients perfectly well. Our show is run by professional artists with years of experience and they deserve the full confidence of our customers truly ! They are eager to offer a magic and stress-free show to you and your guests. With their performances the two sand-artists provide a full service that will cause any circumstances to you. Iryna & Alexander bring the required equipment themselves and build it up personally. Trust the skill and passion of the professional show artists Irina & Alexander and book them for your New Year's office parties and other corporate events, galas, and of course for private parties, too.



For more information please follow the link
PLEASE CLICK BELOW


Sand painting & Sand show as Christmas show



Sand artist & Show for trade (exhibitions)




Sand art as artist & Show for New Year's Eve



SandShow & Artist for Wedding



More videos of Sandshow artist iryna bilenka Chaplin



I guarantee you entertainment pur and much more und I am looking forward to our future cooperation.
With fee I am always flexible. Call me today to book my service and to get answers to all your questions.
Our sand stories are told individually, bring the full joy of a first-class show and still don´t drain your wallet.


Experience the romantic and unique sand drawing art NOW
Enter the dream in her heart FOREVER

Your professional artists and World Champion Team Iryna Chaplin & Alexander
College of Stage and Circus – Kiev, Ukraine
National University of Culture and Art – B.A., Event Marketing & Organization – Kiev, Ukraine
More information about show artists and shows for events:
soap bubbles "bubble show", sand painting "sand show" and comedy "comedy show"
from the world champion
at www.iryna-chaplin.com


Address: Iryna Bilenka,
Unterster Weg 10,
Germany-35582 Wetzlar-Dutenhofen
phone: +49(0) 641 9729650,
mobile: +49(0) 176 23350668, eMail: iryna@iryna-chaplin.de
Your Artist World Champion for Celebrations and Events
Iryna & Alexander

2020 © Iryna Bilenka