Sand artist & Show for trade / The sand painting exhibition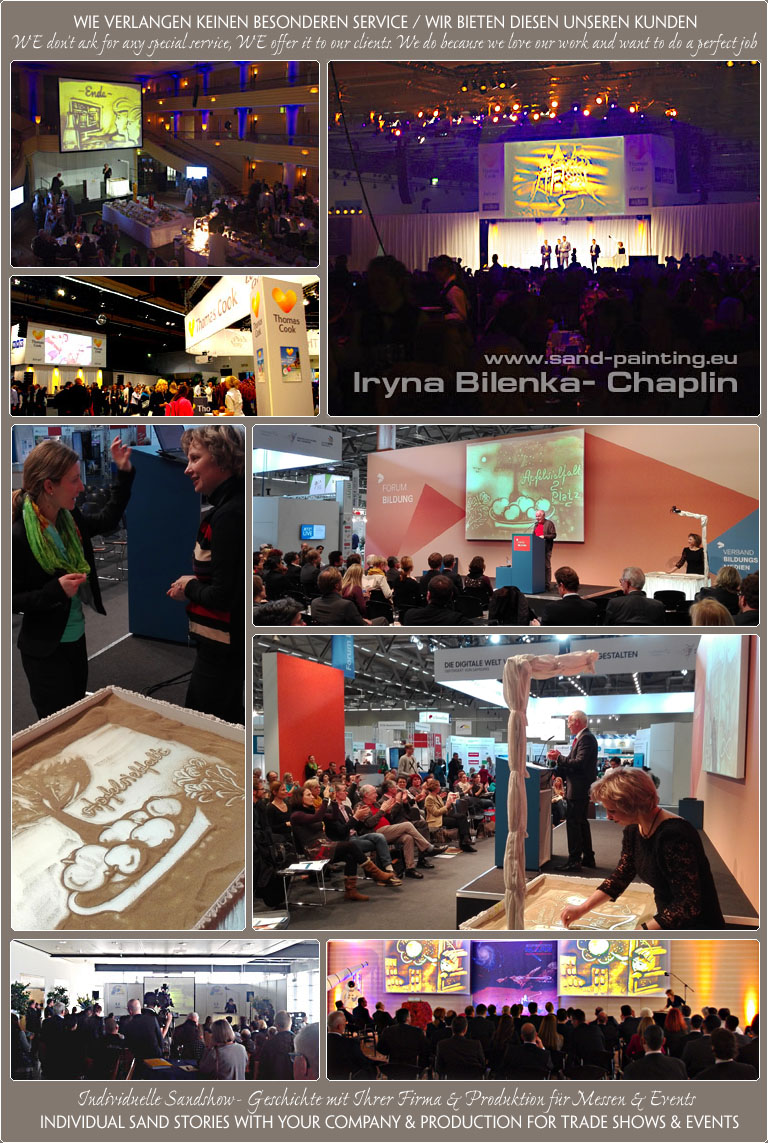 The perfect trade show with a sand painting show.
Sand painting show artist for sand painting exhibition show.
It's not easy to Stand out as a company at a trade Sand- Drawing- Show. Finding a proper show act for the representation of your company is even harder. Even if the requirements for a show act are simple and clear: The show has to appeal the audience without distracting it from your stand, and it has to arouse interest in the goods and services of your business. Therefore, the we are delivering the first good news: The sand painting exhibition show (s) created of our professional performers Iryna Chaplin & Alexander offer you all that.




The new art of sand painting is smart, beautiful and unique. Promised. The sand painting (sand drawing) is an innovative and unusual art form that is perfectly suited for a wide range of events and of course as a show act for trade shows. Through its original, simple and clever concept the sand show works perfectly as a visual aid and also as bait, which draws the visitor to your booth irresistibly.

With sure instinct our passionate sand painting duo Iryna Chaplin & Alexander conjure an enchanting picture story into the fine sand, which is accompanied by music which and projected onto a screen seen by all visitors. The highlight of the demonstration consists in the infinite wealth of motifs of the sand art and a lively exchange of images. Every imaginable motif can be created and incorporated into the performance. There are no limitations to the imagination of our artists and your own wishes.


Individual sand painting show story / T-Systems presentation & production video
The individualisation and adaptation sandshow of the presentation "Dynamic Cloud for Consol"
In the video clip "Individual sand painting show story"
we use royalty free music by T-Systems / Reworking of K. Jarkov

Other sandshow VIDEOS
of sand painting artist and World Champions
> PLEASE CLICK <
Great sand painting artists and sand show (s) for trade shows.
The name of your company, your slogan, your own personal messages and of course the logo of your company will drawn skillfully into the fine sand and appear on the screen visibly to the environment. We also can create a very personal and unique story for the motifs you have chosen. A fantastic spectacle and personal messages guarantee a matchless visual feast and the best advertising company for you. Now the second good news: Irina & Alexander Chaplin are not just excellent sand painting artists, but also two professional performers who understand the demands of their craft completely. Our show is run by professional sand artists with years of experience and they deserve the full confidence of our customers ! Iryna & Alexander are eager to offer a pleasant and stress-free show to their clients. Making up their sand painting shows offer the two sand painter provide a complete service that won't cause any circumstances to you. Iryna & Alexander bring the complete required equipment themselves and build it up personally.

Rely on your intuition, put your trust in Irina & Alexander and contact us:
The professional sand show artists for trade shows
and other events Alexander Chaplin & Iryna will demonstrate their skills gladly.




For more information please follow the link
PLEASE CLICK BELOW


Sand painting & Sand show as Christmas show




Sand artist & Show for trade (exhibitions)



Sand art as artist & Show for New Year's Eve



SandShow & Artist for Wedding



More videos of Sandshow artist iryna bilenka Chaplin



I guarantee you entertainment pur and much more und I am looking forward to our future cooperation.
With fee I am always flexible. Call me today to book my service and to get answers to all your questions.
Our sand stories are told individually, bring the full joy of a first-class show and still don´t drain your wallet.


Experience the romantic and unique sand drawing art NOW
Enter the dream in her heart FOREVER

Your professional artists and World Champion Team Iryna Chaplin & Alexander
College of Stage and Circus – Kiev, Ukraine
National University of Culture and Art – B.A., Event Marketing & Organization – Kiev, Ukraine
More information about show artists and shows for events:
soap bubbles "bubble show", sand painting "sand show" and comedy "comedy show"
from the world champion
at www.iryna-chaplin.com


Address: Iryna Bilenka,
Unterster Weg 10,
Germany-35582 Wetzlar-Dutenhofen
phone: +49(0) 641 9729650,
mobile: +49(0) 176 23350668, eMail: iryna@iryna-chaplin.de
Your Artist World Champion for Celebrations and Events
Iryna & Alexander

2020 © Iryna Bilenka