Sand painting artist & sand show as Christmas show
The perfect Christmas sand painting show for Christmas events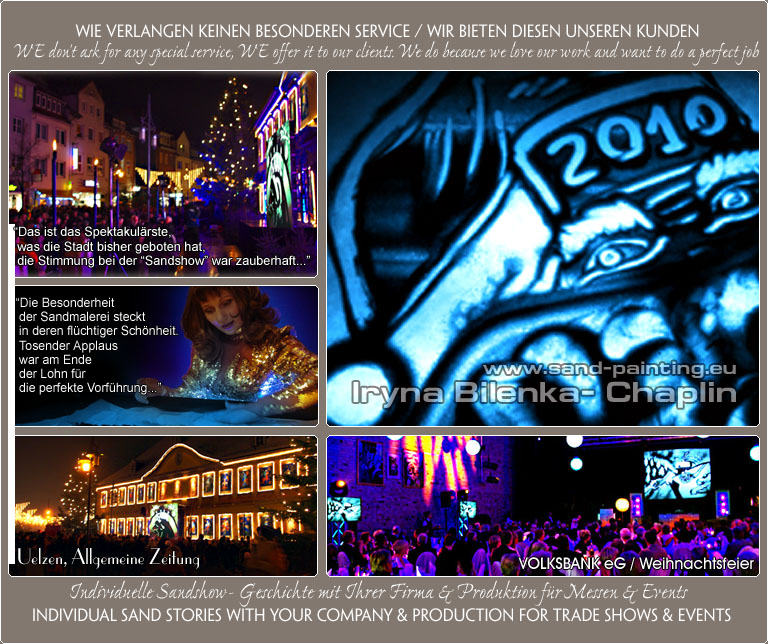 During the Christmas time,
many people wish to experience something extraordinary.
Children want to see the amazing stories about Santa Claus becoming true. The adults want to be reminded of the wonderful Christmas days of their childhood. What fits better to a Christmas party than a piece of magic? The sand painting show for Christmas is designed to for this special event, to awake and to strengthen all the feelings of warmth and cosiness, which we hope to gain from peaceful Christmas days. The Sand Drawing Show of our professional sand painting artists Iryna Chaplin & Alexander thrives an absolutely unique and charming atmosphere, which hovers only during the most wonderful time of the year through the chill winter air.


VIDEO of sand painting artist iryna bilenka Chaplin
Uelzener Christmas magic / Sand Painting & Sandshow video for your Christmas
In the video clip "Video of sand painting artist Iryna Chaplin for your Christmas celebration, ceremony and party"
we use royalty free music / Reworking of K. Jarkov

Other sandshow VIDEOS
of sand painting artist and World Champions
> PLEASE CLICK <
The perfect Christmas show with a sand painting show.
Making their skillful and gracious gestures our sand painters draw authentic and personal dreams into the fine sand, and put a jolly smile on the faces of the audience. The lovely music of our sand show will embrace you with a feeling of security and the contemplation, the sand pictures will invite you to fall into a dream, while the choreography will cause the loving admiration for details. All the building blocks of our sand show are used to tell a magical Christmas story and inspire children and adults alike. With the sophisticated performance of Iryna Chaplin & Alexander, it is impossible to resist the magic of Christmas. If you are looking for a special show for your family Christmas party, your loved ones will be amazed by the Christmas sand painting show. If you want to book a special Christmas artists for the Christmas party of your company, you'll hit the perfect mark with the professional sand painting artists Irina Chaplin & Alexander! So, surprise your family or your colleagues with a bit of Christmas magic.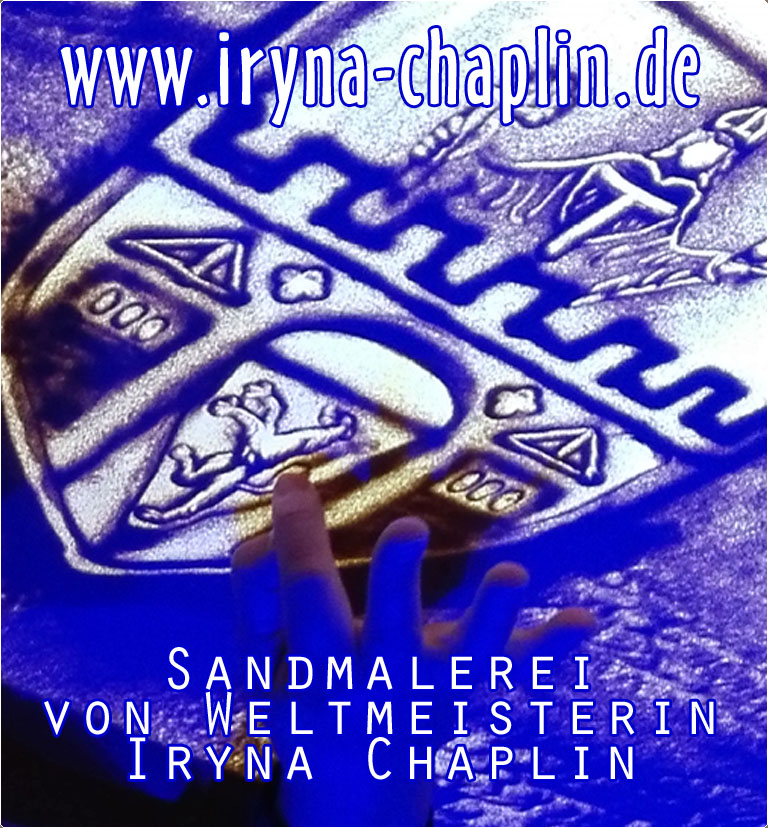 The only thing we ask from you is your enthusiastic respond.
Iryna Chaplin & Alexander offer an inspiring sand drawing show, which won't cause any circumstances to you. You will enjoy a full care service, because our artists bring their own equipment and build it up personally. Don't hesitate any longer, put your trust into Iryna & Alexander and contact us: the Die professional SandShow-artists Christmas parties and other events Iryna Chaplin & Alexander are looking forward to put the Christmas into your Special Christmas Days.



For more information please follow the link
PLEASE CLICK BELOW

Sand painting & Sand show as Christmas show



Sand artist & Show for trade (exhibitions)



Sand art as artist & Show for New Year's Eve



SandShow & Artist for Wedding



More videos of Sandshow artist iryna bilenka Chaplin




I guarantee you entertainment pur and much more und I am looking forward to our future cooperation.
With fee I am always flexible. Call me today to book my service and to get answers to all your questions.
Our sand stories are told individually, bring the full joy of a first-class show and still don´t drain your wallet.


Experience the romantic and unique sand drawing art NOW
Enter the dream in her heart FOREVER

Your professional artists and World Champion Team Iryna Chaplin & Alexander
College of Stage and Circus – Kiev, Ukraine
National University of Culture and Art – B.A., Event Marketing & Organization – Kiev, Ukraine
More information about show artists and shows for events:
soap bubbles "bubble show", sand painting "sand show" and comedy "comedy show"
from the world champion
at www.iryna-chaplin.com


Address: Iryna Bilenka,
Unterster Weg 10,
Germany-35582 Wetzlar-Dutenhofen
phone: +49(0) 641 9729650,
mobile: +49(0) 176 23350668, eMail: iryna@iryna-chaplin.de
Your Artist World Champion for Celebrations and Events
Iryna & Alexander

2020 © Iryna Bilenka